Air Pollution Defeat Parts a National Problem
The Guardian reported on the national problem of defeat parts and wrote about UPHE's lawsuits against the Diesel Brothers and Tap Worldwide (another pollution defeat device marketer and subsidiary of Polaris).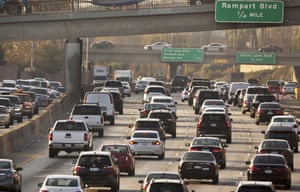 Traffic on the Hollywood Freeway in Los Angeles in December 2018. Photograph: Damian Dovarganes/AP
In 2017, Utah Physicians for a Healthy Environment filed what the group claims was the first Clean Air Act citizen suit against companies selling defeat devices. The law allows private citizens to file lawsuits to enforce emissions standards. Their targets included body shops featured on Diesel Brothers.

Reed Zars, the attorney who filed the suit, only had to look as far as Instagram and Facebook to find potential violations by some of the companies featured on the TV show.

The EPA estimates that more than 500,000 diesel pickup trucks have been "deleted" since 2009. The EPA claims that these illegally modified vehicles produced hundreds of thousands of tons of excess nitrogen oxide – the equivalent of adding 9m more trucks to the road. UPHE obtained a clear victory against the Diesel Brothers, who are doing everything they can to avoid paying the court awarded fine.

Read the full Guardian article here.
The suit against Tap Worldwide is still winding its way through the courts.
Thanks to all our supporters for allowing us to pursue actions like this to clean up Utah's air.